Peru Trip Information
Dates – March 18-25, 2023
Group Leader
Dr. Jodi Flanders and Dr. Jim Deering will be your group leaders. If you have questions, please contact Dr. Flanders at  [email protected].
Serving in the Amazon
Power of a Nickel returns to Iquitos, Peru, to educate and serve in this country filled with the history and culture of the Amazon. Although a tourist destination for many, indigenous people struggle to preserve their culture, enduring poor health and markedly reduced access to healthcare services. We will serve 3 clinic days in Iquitos, then travel to remote villages for 2 half days. This trip will include travel by country, air, land, and water.
View photos of our previous outreach trips to Peru
View testimonials from our previous Peru trips
Goals
Continue to build relationships with the people of Peru
Experience cultural differences and global health concerns
Provide competent, appropriate medical care to an extremely underserved population
Facilitate educational opportunities for the local population
Offer a safe learning environment for medical students, healthcare
personnel and ancillary team members, while learning the art of medicine
with technology limited by local standards
Request referrals for other services provided by the Peruvian Healthcare System
Partner with local physicians, Ministry of Social Inclusion and Development, Regional Government of Loreto, Health District of Mainas, to better understand the needs and culturally appropriate care of this population
Welcome the local physicians, dentists, and medical students to our brigade for mutual learning
Supply much-needed medications and supplies for the community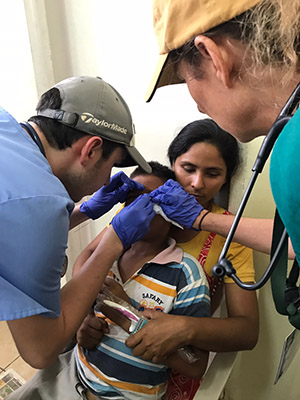 Checklist
Complete the application
Submit your $206 deposit. This nonrefundable deposit will hold your reservation until the payment is due.
Comply with payment schedule.
Payment #2: due December 9, 2022. Pay by check $1100 To: Power of a Nickel, c/o Dr. J Flanders 2475 W. Garrison Rd. Owosso, MI 48867.
A limited number of single occupancy rooms will be available at an additional $500 due at time of the payment #2 (December 9.)
Payment #3: due by January 10, 2023 (estimated to be $1000 – final
invoice will be forwarded to you by December 31, 2022) via check to
Power of a Nickel c/o Dr. J Flanders 2475 W. Garrison Rd. Owosso, MI
48867.
Confirm that your passport does not expire before October 1, 2023
Make certain you have the required immunizations for Peru. (Yellow Fever and COVID-19 series are required, typhoid is recommended.) https://wwwnc.cdc.gov/travel/destinations/traveler/none/peru
Upon notification that you are approved for the trip, scan and send all required documents to

[email protected]

*CV
*Current Medical License
*Medical School Diploma
*Signed affidavit of authenticity (will be forwarded to you when all
documents received prior to translation and submission to Embassy)
Passport face sheet
Flight itinerary, including address of any hotel or travel prior to or
post trip
Documentation of Medical Evacuation Insurance, minimum coverage $500,000
* Indicates needed for PHYSICIANS ONLY
Power of a Nickel requires full COVID vaccinations for team members.
The Government of Peru requires proof of full COVID vaccination.
Arrive at Jorge Chavez International Airport anytime March 18 or March 19 by 8 am.
We return to Lima at 4 pm Saturday, 25 March, so schedule your departure for USA
after 18:30 (6:30pm).
Included Costs
Escort to greet upon arrival in Lima
March 18 overnight in double occupancy Lima hotel (airport Wyndham)
Domestic air tickets for travel Lima/Iquitos/Lima
Transportation to and from Iquitos airport and all clinics by air conditioned bus
Housing in air-conditioned hotels with hot water and private bathrooms, double occupancy rooms in Iquitos and the jungle resort
Charter of boat for river clinics
3 meals daily, March 19- breakfast March 25
Governmental document preparation, translation, Embassy approval
Peruvian guide escorts to clinics
Medications and supplies for clinics
Peruvian Medical licenses for all physicians
Peruvian doctor fees
Translator fees
Assistance for airport check in Lima 25 March, 2023
Costs Not Included
International air tickets (USA to Lima)
Additional luggage charges
Personal expenses
Souvenirs, Beverages
Tips for transfers, guides, or servers
Services not mentioned
Single room occupancy
Vaccinations
Evacuation Insurance
Cost and Payment Schedule
A NON-REFUNDABLE DEPOSIT OF $206 is required to hold your space.
Second Payment due December 9, 2022$1100. ($1600 for single room)
Final Payment due January 10, 2023, $1000.
Checks made payable to: Power of a Nickel c/o Dr. J Flanders2475 W. Garrison Rd Owosso, MI 48867
$206 deposit is non-refundable. You may transfer this to another person if you find you are unable to participate, but you will need to make any financial arrangements with that person.
Cancellation less than 75 days of departure will result in cancellation fees, according to supplier's charges
74-45 days prior to departure, 50% refund
45-0 days prior to departure, no refund
Trip cancellation insurance (different from evacuation insurance) is strongly encouraged to avoid forfeiting funds if you must cancel for any reason
Participants will be responsible for all recommended vaccinations including Hepatitis A & B, typhoid, Yellow Fever, Tdap, MMR, Polio, Influenza, and COVID-19 series. Malaria prophylaxis is recommended. More information can be found at www.cdc.gov and www.headinghomehealthy.org
Travel Clinic consultation is recommended
Evacuation insurance is required
Trip cancellation insurance is suggested